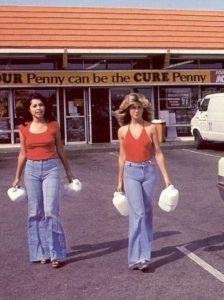 Hard to tell if Joe is hungry or horny… either way, I'd keep my eye on that sandwich if I were you. This article on 7-Eleven by Milton Moskowitz ran in the Tampa Times on February 9, 1977.
Which retail chain has more units in the United States than any other? The answer is neither Safeway, nor A & P, the two largest operators of supermarkets. Each has more than 2,000 stores bearing their flags.
The answer is not Sears Roebuck, the world's largest retailer in terms of dollar sales volume. Sears has nearly 900 stores across the country. The answer is not J.C. Penney, which is second to Sears as a general merchandise retailer. Penney runs about 1,650 stores.
And the answer is not S.S. Kresge, whose network of K-mart discount houses has made it the fastest-growing company among the giants of retailing. There are now some 1,200 K-marts in the nation.
No, the correct answer to this quiz is the Southland Corporation of Dallas. Southland operates or franchises the 7-Eleven convenience stores. There are now 6,000 of these units, more food outlets than Safeway and A & P combined.
The 7-Eleven phenomenon is a creature of our times —and in light of what it does dispense, it may be a misnomer to call it a food outlet. It's the store for people who forgot to stock up with cigarettes at the supermarket.
At a typical 7-Eleven, cigarettes account for 16 percent of purchases. It's the store for people who need to pick up a six-pack of beer or a bottle of wine. Beer and wine represent 15 percent of dollar volume.
Or it's the store for people who are buying paper cups, toilet paper, and other non-food items such as razor blades, soap, and Tampax. That accounts for another 18 percent of purchases. In short, at least half the items bought at a 7-Eleven are not food at all.
Beyond that, many 7-Elevens have spits or grills to dispense "Hot to Go" foods. And more than 10 percent of 7-Elevens now have a self-service gasoline pump.
It all adds up to a volume of about $1.6 billion a year, which makes the 7-Eleven operation bigger than the Grand Union supermarket chain or the R.H. Macy department store system.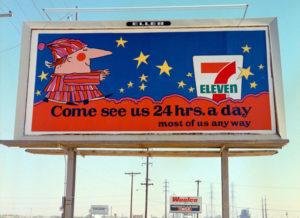 Southland Corporation itself is a mixture that goes from the sublime to the ridiculous. While it's running these thousands of mini-markets where kids buy Slurpees and potato chips and adults pick up a pack of Marlboro and a carton of milk, it also serves the carriage trade on New York's Upper East Side through its ownership of the Gristede markets and the Charles & Co. gourmet shops.
One way to look at the 7-Eleven phenomenon is as a revolt against the supermarket. People certainly don't shop at a 7-Eleven to save money. They do shop there to save time — who wants to go to a supermarket to buy a pack of cigarettes?
They also shop there because the 7-Eleven may be open when other stores are not. The name, "7-Eleven," does not refer to craps, but to the fact that the stores were originally open from 7 am to 11 pm.
Today, well over half the 7-Elevens are open 24 hours a day. And the average 7-Eleven unit does one-third of its total business on weekends.
What else is different about a 7-Eleven convenience store? The customer mix. Southland's figures show that 68 percent of all its customers are male. And 19 percent are children and teenagers.
This is not the place for serious shoppers. The average customer purchase is $1.40, and half the customers spend less than three minutes in the store. Try to do that in a supermarket.