There's a very good reason you don't see 3-wheeled ATVs anymore…
Whether you buy the brand-new model or a vintage one, the Honda Trail 125 is a great casual entry into motorcycle off-roading. And for those who prefer a bit more stability, Honda also has ATVs like the FourTrax Rancher. However, once upon a time, the Japanese brand had yet another offering: the 3-wheeled Honda ATC ATV. But it was too dangerous to stick around.
The inspiration behind the Honda ATC was simple. Outside of places like California and Florida, most US motorcycle dealers have poor sales in the winter months. So, to bolster their business, Honda tried to create something that would work in the snow, Motorcyclist explains. However, the designers also wanted a machine that wouldn't be totally useless in the summer—so, no snowmobiles, CarScoops reports. The result was the 1970 Honda ATC 90.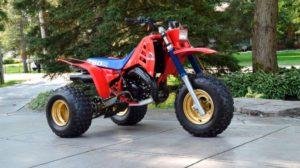 At the time, the term 'all-terrain vehicle' didn't really exist. There were amphibious all-terrain vehicles, Autoweek reports, but they were military vehicles. As such, the 3-wheeled Honda All-Terrain Cycle (hence 'ATC') was arguably the first ATV. And it, along with its later evolutions, proved massively popular. During the '70s and '80s, roughly 80% of all ATVs had three wheels, PartDiscounter reports… read more >