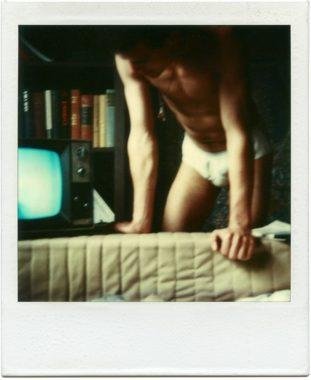 The arrival of Polaroid cameras and instant film meant the end of snooping photo-lab technicians — which, in turn, meant homemade dirty pictures were suddenly available to everyone. Unless they are into photography and/or have an interest in history, a lot of young adults today, they may not even be aware that there was a whole process involved when it came to snapping nude pics. Whether you were taking them of yourself, someone else, or a whole group of like-minded adults, dropping the film off at the local photo lab was always dicey, especially in more conservative parts of the country were such prurient photos may have even been illegal. To avoid such complications, there were photo labs that specialized in discrete developing services, many who operated via mail, but that all came to an end as Polaroid cameras hit store shelves and became increasingly more affordable.
In 1970, Polaroid founder Edwin Land stood in a factory and proclaimed that in the future, the still camera would be like the telephone. As a crew of cinematographers rolled their tapes, he explained candidly that one day the camera would be "something you use all day long… [something] you would use as often as your pencil or your eyeglasses." Land's dream was for photography to be a shared experience, as well as an action as simple as taking a wallet out of a pocket and tapping a button.
Land essentially prophesied the much-later arrival of the camera phone, as New York Magazine editor Christopher Bonanos points out in his new book Instant: The Story of Polaroid. So Land's dream was realized–only not, sadly, in his lifetime.
But just because Land didn't successfully deliver cell-phone photography doesn't mean he didn't usher in a magnificent new era for instant, shareable nudie pics–and Polaroid nudes didn't put photographers or subjects "one tap away" from accidentally sharing their intimate moments with the Internet. In this excerpt from Instant, Bonanos explains how the newfound privacy that came with being able to develop pictures without the help of a photo-lab technician was liberating, sometimes incriminating, and often pretty delightful–for artists, photographers, and scores of playful amateurs at home…. read more >