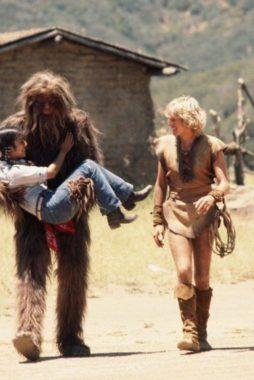 If you think about it, Bigfoot and Wildboy was kind of a two man – er, one man, one Sasquatch – A-Team. Orphaned at a young age, Wildboy (Joseph Butcher) was raised in the Pacific Northwest by the legendary Bigfoot (Ray Young), a large, intelligent, hairy man-thing. Together, Bigfoot and Wildboy fought the various forces of evil in their part of the country – and there were lots of them.
Besides being extremely strong, Bigfoot could also use super-powered jumps to get to high places or to cover long distances.
Helping – and occasionally hindering – Bigfoot and Wildboy were Suzie (Monika Ramirez), the 12-year-old Native American daughter of the Ranger (in the first season), and Cindy (Yvonne Regalado), a pretty teenaged archaeology student (in the second season).
Bigfoot and Wildboy originally aired in 1976 as a regular 15-minute segment on The Krofft Supershow. ABC brought back the series as a standalone show and aired 12 new 30-minute episodes during the summer of 1979.
Primary Cast: Bigfoot – Ray Young, Wildboy – Joseph Butcher, Suzie Lucas – Monika Ramirez, Ranger Lucas – Ned Romero, Cindy – Yvonne Regalado, Cindy's Father – Al Wyatt Jr.
Episodes: Sonic Projector | Black Box | Abominable Snowman | UFO | White Wolf | Amazon Contest – Secret Monolith | The Trappers | The Secret Invasion | Space Prisoner | The Birth of a Titan | Bigfoot vs. Wildboy | Meteor Menace | Earthquake | Eye of the Mummy | The Wild Girl | The Other Bigfoot | Return of the Vampire | Outlaw Bigfoot |Spy from the Sky
Source: https://nostalgiacentral.com/television/tv-by-decade/tv-shows-1970s/bigfoot-wildboy/