For those who aren't familiar with this "Mistress of the Dark," where have you been? Locked in a casket? After all, her Goth, sex-kitten character has not only appeared on the TV series Movie Macabre and numerous cult hit-movies, but also on every imaginable type of merchandise.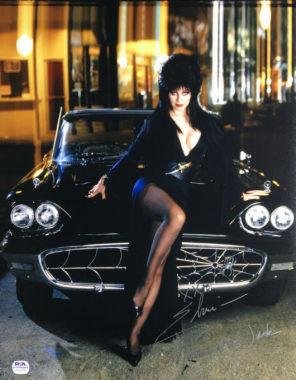 Her seductive shape has graced Bally's best-selling pinball machines of all time, along with countless calendars and comic books around the world. Her popularity in turn spawned licensing deals for models of the Macabre Mobile, a '58 Ford Thunderbird customized by the legendary George Barris.
It wasn't always so, and she didn't always have a tricked-out T-bird to prowl around town in during the midnight hour. After stints as a Vegas showgirl and singer in an Italian rock band, not until the fall of 1981 did Cassandra Peterson really hit her stride with the birth of the vampish Elvira character.
How did she come up with the character? A local Los Angeles TV station was looking for someone to host a show called Fright Night, which would later become Movie Macabre. Her low-cut slinky gown, sensual poses and bawdy wisecracks were an instant sensation. George Barris sums up her character as a "Seesaw. Sexy, with those big breasts and cleavage, but a Mistress of the Dark." Read more and view the gallery >