There is no pairing of photos I could come up with that better exemplifies the years-long restoration of the piece of history that is Evel Knievel's former Mack haul rig than these two. I took both, the first (left) on the occasion of the rig's arrival at the small fleet and sometime custom shop of BPW Transport owner-operator Brad Wike in Lincolnton, N.C., in February 2012, the second upon unveiling of the resto job at the Great American Trucking Show in August of 2015. Both feature the same man who, though the rig was never his to do with just what he would, is synonymous with its revival in my mind — Robb Mariani.
Mariani's familiar to many readers as the man behind the "American Trucker" TV series that caught the eyes of so many among owner-operators in the early part of the decade on the Speed Channel. Mariani's subsequent involvement in all manner of trucking business-, culture- and history-related efforts, too, did their part to remind Overdrive readers of the man Truckers News memorably called "Trucking's biggest fan."
His obsession began with his grandfather's Overdrive subscription, as he told around the time of his television show's debut. The story of the Evel Knievel 1974 Mack's rebirth starts there, too, with the "Finding Evel" episode of the show in Season 2, premiering in September 2011.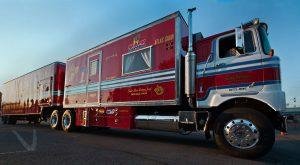 There, Mariani and crew documented the then-current location of the 1974 Mack FS700L cabover and Post Coach living quarters, rescued from the weeds in a yard in Clearwater, Fla. The trailer was with it, all still showcasing faded signage from Knievel's touring days of motorcycle-jumping and other daredevilry… read more >