As little as he may look like the straight world's concept of "best musician of the world," and as freaky an image as he and the Mothers of Invention may have, Frank Zappa has done much to influence and guide pop music throughout the world.
Besides introducing a sense of musical anarchy long before it was popular (and now being copied by other bands), Zappa was also among the first to produce a rock album as if it were a single piece of music. ("Freak Out" was no "Sgt. Pepper," but it definitely was an inspiration to the Beatles, among others.) Utilizing what he calls "visual aids" and creating a vast complex of musical style and technique (based on everyone from the Penguins to Edgar Varese), Zappa has a firm idea about where pop music is at — however pretentious that appraisal may sound. He also has notions about where our ailing society is at; his satiric lyrics are unparalleled.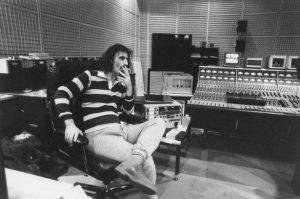 Zappa quickly discounts anyone who calls him genius, but it must go unchallenged that he and his ideas are important not only for pop music but for all music, not only for the rock world but for all the world. It is as Spencer Dryden, drummer for the Jefferson Airplane, says: "If we have to have a spokesman for what is going on today, musically and every other way, Frank Zappa gets my vote."
When musician Frank Vincent Zappa (1940-1993) was diagnosed with prostate cancer in 1990, he said, "What can you do? People get sick. Sometimes they can fix it, and sometimes they can't." He shelved his plans to enter the 1992 presidential race, but with his satirical irreverence, what a campaign it would have been!
"Politics is the entertainment branch of industry," Zappa once observed.
An outspoken advocate of creative freedom and First Amendment Rights, he once explained his political views: "There is nothing creative about a right-wing administration." Left-wingers, he believed, "are no better, using artists and creative people as propaganda to further their goals." His solution? "I think common sense is the way to go." Read more >