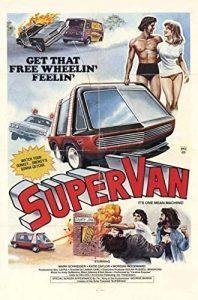 Created in the late 1960s by Hollywood auto customizer George Barris, who's best known as the designer of the original Batmobile. With its crushed red velvet interior, rotating bed and disco ball hanging from its ceiling, the van certainly lived up to its original namesake. Modified from a 1966 Dodge Tradesman A-100, Barris even installed solar panels on the eight-cylinder van, which powered a television, radio and even a record player that were used during the downtime on the set of SuperVan. Ah, the 70s really were the best.
Barris built the van, originally dubbed "Love Machine," from a 1966 Dodge A-108 Sportsman. Power came from a 318 V8 hooked up to a three-speed manual, and the paint was burnt orange, but the "Love Machine's" interior is where Barris focused most of his attention, with a rotating circular bed, television, chandelier and plush carpeting.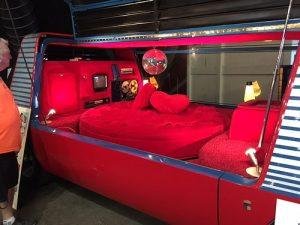 The van featured an entirely custom body, almost symmetrical front to rear, with a pair of giant arches that reportedly featured built in roll bars. The windshield lifted in one piece, as did one at the rear, making this the only van of its kind. The van did the rounds at auto shows until the mid-1970s, where it was promoted as the "world's first x-rated car."
1977's SuperVan was not the van's only screen appearance of this unique vehicle, as it also showed up in the 1986 made-for-TV movie Condor, repainted gold and black; then in 1989's Back to the Future II as a Hill Valley Transit bus, painted green; in the 1990 movie Solar Crisis, painted white; and then on an episode of the 1990s TV show SeaQuest DSV, still painted white.
Then, in about 2003, the Guild of Automotive Restorers began a restoration on the van that brought it back to its SuperVan configuration.