The year was 1946 when a small hot rod shop opened up on Gratiot Avenue in Detroit and by 1960, they had expanded to half a dozen stores throughout Michigan and were known as the 'world's largest hot rod shops.' Unlike a lot of speed shops, Gratiot Auto Supply locations weren't just fronts for mail order dealers – they had hardware on the shelves, so no waiting for that new set of headers for your small block to come in from Los Angeles – they were in stock and ready to rock. From cross members and frame rails to cheater slicks and crate motors, they stocked literally everything a guy would need to build a car from the ground up, something no other retail store could come close to pulling off.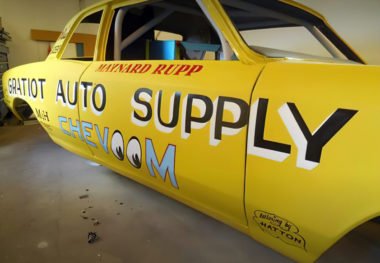 Like most things from back in the day, details on Gratiot Auto Supply have succumbed to the winds of time, but when we came across this post by a former employee on Jalopy Journal, we thought it was worth sharing. We also assembled a pretty solid gallery of Gratiot Auto Supply photos and catalog pages, so definitely don't miss those at the bottom of the post!
When I worked at Gratiot Auto Supply It was one of the biggest Speed / Hot Rod Shops in the Nation, we had several BIG store's with lot's of inventory and a huge warehouse in Madison Heights that did a ton of mail order business, but mail order was different then, no credit card orders unless you had a account set up, ( to make a purchase with a credit card you had to have your "Charge Plate" in hand so we could run it through the machine to make the impression, any charge over $50.00 had to be looked up on our Comp-u-Check printout ), you sent in your "Order Form" with a Money Order or with C.O.D. instructions, If you sent a personal check you would have to wait until it cleared before your order was even pulled, the fastest turn around on a mail order was 7 to 10 business days. We were open three nights until 7:00 p.m. and two nights until 9:00 p.m. Sat until 2:00 p.m. And closed on Sunday, But our heaviest hours were always between 2:00 p.m. and 6:00 p.m. on a daily basis.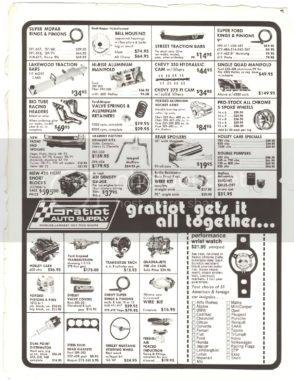 But working as a counter man was pure nirvana… totally surrounded by all things Hot Rod it was like being a kid in the toy department at big department stores just before Christmas, only better! I got a chance to build relationships with Customers, you might not remember their name, but you knew what car they were working on and what they were doing to it, I had a chance to answer their questions and help them with decisions on what to do, when they were done building their car or installing the parts you sold them it was common for them to bring the car in, so you could see it, or if you saw them on Telegraph or the Strip (on Sunday) you would talk to them… a guy that came in looking for parts for his T-Bucket way back then is still my best friend today.
Angelo had a great Idea in that he had a Ford, Chevy and Mopar guy along with other guys that had other specific knowledge in every store. It was a great time in hot rodding, It was easy to weed out the real deal from the wannabe's really quick, but we never discouraged anybody, because with rare exception everyone that grabbed that chrome plated camshaft door handle and walked in loved hot rod's. You have to remember, back in the early 70s there weren't many car shows, rod runs or swap meets, so anyone into cars was drawn to us like a moth to a flame.
It wasn't unusual to see Wayne Gapp, Jack Roush, Chuck Miller, Don Carlton, Paul Hatton, Frank Mack, E.J. Potter, Bob Kaiser, Larry Shinoda, The DeLorean brothers, Ron Mancini as well as many others, even Don Garlits and Linda Vaughn (with Angelo of course) come in at any given time. Is the day of the Local Speed Shop coming to an end ? Well, sadly as things change in the way the world does business I would say we will never see a time like that again (the world changes), but for you young guys, I wish you had a chance to experience those days. I wish you could understand what a big part of hot rod history is slowly dying right before our eyes, some shops might be starting up and old ones doing good, but I don't think it could ever be like it was in the day. – Harms Way via https://www.jalopyjournal.com/forum/threads/gratiot-auto-supply-the-worlds-largest-hot-rod-shop.282960/