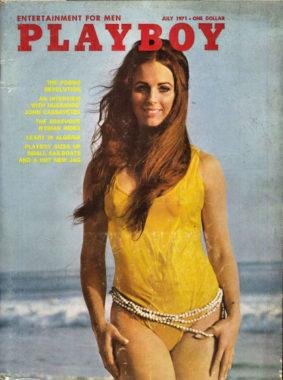 Heather Van Every (born September 9, 1951) was the top bunny for Playboy's July 1971 issue. Her centerfold was photographed by David Chan. She was born in Illinois and became a Bunny at the Denver Playboy Club, remaining there after her Playmate appearance. The following is from her centerfold feature:
Heather still enjoys the Rocky Mountain's high, which affords ample opportunities for her and her husband to pursue outdoor hobbies such as skiing, trail-biking, riding horses, and camping. Heather Van Every is understandably high on Denver, where the 19th step of the Colorado Capitol building is exactly one mile above sea level and the sky seems a distant, azure dome. Denver has been her home ever since she moved West from Chicago with her family when she was four, and she feels no desire to move again. "It's so unlike other cities. It's big enough, but it doesn't seem to close in on you. You can feel the countryside around you. The air is clean. I love it." For over a year, 19-year-old Heather has worked as a Bunny in the Denver Playboy Club, where she's welcomed keyholders at the door, worked in the Gift Shop and played bumper pool. She enjoys the job and expects to stay with it. But, unlike many of the other cottontails, she doesn't see Bunnyhood as a steppingstone to something else. "I don't have any modeling plans. I don't want to act. I guess I don't have any driving ambitions or dreams. Like a lot of girls, I plan to get married and raise a family. Careers are fine for some women, but I'm not one of them.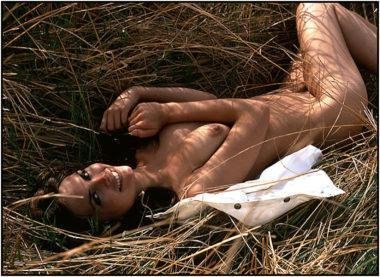 I just like to take things one day at a time. And enjoy what's available around here." For Heather, that includes skiing; Aspen and Vail are within easy driving range for ski weekends, and the surrounding countryside is tailor-made for her other pastimes: riding horses and trail-biking across the high plateau around Denver, through foothills and valleys that meander into the Rockies looming blue and formidable on the horizon. In this pristine terrain, with its spruce forests and rocky streams, Heather rides, explores and lingers in the vast quiet and solitude. "I'll never get over a sort of awe for this place. It's so big that you just feel swallowed by it all. You can feel lost even when you're not." On fishing and camping trips, she takes advantage of the opportunity to savor the companionship of friends, to breathe the air, to cook trout — caught fresh from the clear mountain water — over an open fire, to sit around the embers and talk. "I'm not wild about fishing, but my dates usually are. So if they'll bait the hook, I'll do my part. I'm better at the cooking. That I like." At home, Miss July paints — mostly landscapes — does simple wood carvings, reads, listens to rock and watches reruns of The Avengers. Sometimes she just daydreams. "I'm not one of those people who are always in motion, always doing something or planning something. I guess some people would say I'm lazy; but I wouldn't want it any other way." Perhaps the altitude explains her attitude: Miss Van Every is a girl who clearly enjoys living with her lovely head literally in the clouds.