After nearly 50 years in business, the High Tide Cocktails closed their doors as yet another casualty of the COVID lockdowns, but for those who never experienced it, Stuart Schuffman, aka Broke Ass Stuart covered it quite eloquently back in 2012 here, but we've included it below for your convenience along with our aggregated gallery of shots from when High Tide Cocktails marquee was still shining bright.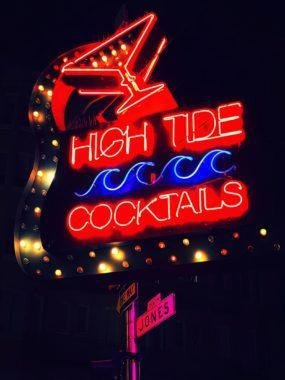 The big neon sign at the corner of Geary and Jones is a beacon of beauty on a dark Tenderloin night. I'd say it draws me like a moth to a flame, but actually, it draws me like a drunk to a dive bar. A tilting martini glass sits atop the words High Tide Cocktails, poetically mimicking the lushes inside whom themselves tilting on barstools, spilling their guts to anyone who will listen. This is my kind of bar.
Just the other night I was in the High Tide waiting for my friend Kristin to show up. The only thing that had changed about the place since I lived up the street from it 8 years ago was that they recently got an internet jukebox. A black guy in his late 50s was trying to impress the youngish female Chinese bartenders by telling them that he was gonna play "Gangnam Style." They begged him not to. He did it anyway. Earlier I had asked one of the barkeeps why they got rid of the old jukebox. She said that the internet jukebox was better because you could have any song you wanted. Once "Gangnam Style" came through the speakers, I looked at her and said, "I bet you wish you had the old jukebox now." I know I did.
Non-internet jukeboxes are important because it allows a bar to curate the feeling of the place. Before they put in the current abomination, the previous box even had local hip-hop genius Richie Cunning's masterpiece Night Train in it. This was great not only because it's one of the best albums about San Francisco in years, but also because both Richie's father and grandfather used to own the High Tide. If you look behind the bar, nestled amongst the dozens of signed $1 bills that are stapled to the ceiling and the walls, there's a painting of a young topless woman with a great rack. That woman was Richie's grandmother! My favorite story Richie told me about the bar though, is that there used to be a guy called Jerry the Swamper who lived in a crawl space in the men's bathroom during the day, and "swamped the bar" (cleaned up all the wet messes) at night. Jerry the Swamper is no longer in residence at the High Tide, but that's not to say it isn't full of characters.
The High Tide's clientele is as diverse as any bar you can find in SF. Its denizens include hipsters, recently off work Salvadorean cooks, white dudes in button-downs, international people from the nearby hostels, and local Tenderloin weirdos who're slowly but surely giving their lives over to the bottle. It's the kind of place that you pop into for a game of pool and a beer and end up closing the bar down with people you've just met and who've told you life stories too fantastic to not be true. Despite the martini glass on the neon sign outside, I'd be surprised if anyone ever actually ordered a martini in there.
The Tenderloin is a weird place. More and more, there are brilliant and beautiful bars opening that serve precious cocktails seemingly derived from alchemy. This juxtaposed with the crackheads and junkies that flit about outside like emaciated velociraptors, illustrates the many unbalances that San Francisco represents. At the High Tide, nobody gives a fuck about any of that shit. They just wanna have some drinks, play some pool, and bump "Gangnam Style" on the jukebox. This one's for Jerry the Swamper." Source >