In the early '60s, The Pacific Basin Trading Company (PABATCO) in Athena, Oregon, began importing Yamaguchi motorcycles from Japan, hoping to establish a market for small trail bikes and spirit away some of Honda's burgeoning success. By 1963, however, Yamaguchi had gone out of business, leaving PABATCO high and dry.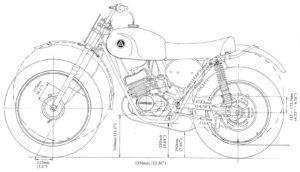 General manager Henry Koepka and other PABATCO employees decided they should design their own motorcycle and looked to Hodaka — the company that built motors for Yamaguchi — to help realize their vision by manufacturing the bikes. Keopka and his team set about improving the design of the Yamaguchi Scrambler, a lightweight trail bike, resulting in Hodaka's first model: the Ace 90. The bike arrived in the U.S. in 1964 and became an instant success thanks to its low cost and durability.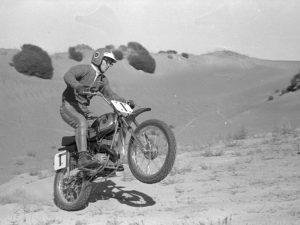 PABATCO designed the Ace 90 around a very basic concept: "Let's build a simple trail bike that is red with a chrome tank and improve on it, over and over." That way, whenever they updated the bike's design, the newer, better parts could be retrofitted onto older models, allowing owners to always keep their Hodakas up to date. Notable features on the Ace 90 included adjustable folding footpegs, high ground clearance, high fenders, a seat with thick foam, a tire pump, and a cylindrical toolbox.
Between 1964 and 1970, PABATCO sold over 24,000 Ace 90s and Ace 100s as it worked its way to the front of the trail bike market… read more >
https://psyne.co/product/hodaka-motorcycles-1964-vintage-mens-t-shirt/