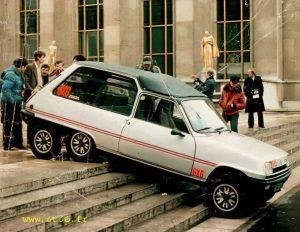 This is a general rule: motorcycles have two wheels, and cars have four. Yet there are many exceptions to the rule in the history of the automobile. We remember some tricycles or three-wheeled carts. But for some it's not enough. Imitating trucks, some cars have six wheels. A very French specialty.
"Ride today at the wheel of a Ferrari, a Porsche Turbo, or a Rolls-Royce. No one will notice you, or you will be a playboy on the way back. On the other hand, with a renault 5 six wheels, all heads turn on you."
This is how Christian de Léotard explained to a journalist his obsession with six-wheeled cars. But who is this character?
The story begins in 1978 when the young Christian leaves for an internship in England at Land Rover. He then discovered the world of 4x4s, and became passionate about transmissions of all kinds. His assignment is to work on a six-wheeled Range Rover project. The vehicle is majestic, and immediately seduces the young technician.
Back in France, he joined forces with the ADPT "Application of Tissier Processes", a company of Pierre Tissier. The company specializes in special bodywork, often made on the basis of extended Citroën DS. It was here that he developed raised and elongated CX wagons for the press.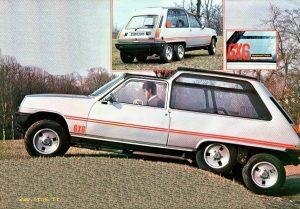 Indeed, these immense breaks load each night, up to three tons of freshly printed French newspapers bound for Brussels. Legend has it that to allow Belgians and Dutch to discover French newspapers upon awakening, the CX station wagon was traveling at a cruising speed of 105mph.
After this apprenticeship, de Léotard decides to stand on his own feet. For his first solo project, he will tackle the Renault 5. Thanks to the Simpar company, a 4-wheel drive specialist who provided him with the necessary equipment, he developed a three-axle R5 in a few months. The length goes from 3.50 m to 4.21 m, the chassis is reinforced with tubes and according to the manufacturer, "road holding is improved by 70% and braking by 33%".
A six-wheel R5 took part in the Paris-Dakar 1980. The crew gave up, but all the press talked about it, which gave its creator wings. In 1984, the designer returned to the Dakar with a Mercedes G-Class modified by him. He did it again in 1985 and 1986 with monstrous 190 6×4 and 6×6 station wagons. When Christian does not devour the tracks of Africa, he continues his wildest projects. This is how he started work on a somewhat special Renault 5 Turbo. It has two motors, each block driving a pair of wheels, operating either alternately or simultaneously.
The extended R5 will not finish the Dakar, but will effectively publicize the concept. Quickly, the knowledge of the six-wheel specialist was exported beyond the borders. In the 1980s he marketed in the Middle East a variation of the G-Class in 6×6 or 6×4, conversions invoiced for around 600,000 francs at the time. He would also go on to be one of the three preparers officially recognized by Mercedes-Benz, with AMG and Brabus.