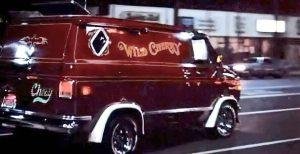 There's a wild story that surrounds "Wild Cherry", a movie van that made an appearance in the cult classic 1979 movie Van Nuys Blvd. This vintage van was seen cruising on the big screen for a few moments in the B-rated movie that took just 18 days to film. Of course, the van didn't reach the movie car stardom and cult followings such as Eleanor, Bullitt, or Bandit, but it will forever have its few seconds in the spotlight in Van Nuys Blvd. It was the story that followed that made this funky van an internet sensation.
It's safe to say that Wild Cherry has been on a wild ride. An Illinois man named Chris Carter saw a Facebook photo of the 1975 Chevrolet G-10 van covered in rust, and it was an image that stuck with him.
"After I saw the picture, I just couldn't get it out of my mind," said Carter, who works at a Gillespie body shop. "To see that van abandoned with a tree on it, and to know its former glory, how nice that it looked, how it was in a movie … I knew I had to do something."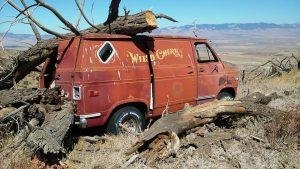 In fact, the van had been through two wildfires, and sustained damage from a fallen tree that still rested upon its roof. He then spent a solid year researching its location through emails and messages. Once he located the then-decrepit van, Carter drove 1,900 miles to pick it up in a desolate area of California in November 2017.
Once Carter had the van in his possession and back home, he went to work restoring it to former glory with the help of donations from a GoFundMe account and selling t-shirts. Carter became a celebrity of sorts during the restoration process. After the restoration was complete, an unexpected turn of events put Carter in quite a jam. On June 25th, 2018, the van's owners, Laura and Steven Godwin, reported Wild Cherry stolen. Once approached about the situation, Carter denied ever stealing the vehicle and said that the neighbors had informed him that it had been "abandoned" as they unlocked a gate to permitting access to the vehicle. That's when he and a friend loaded the van onto a trailer and towed it back to Illinois… read more >