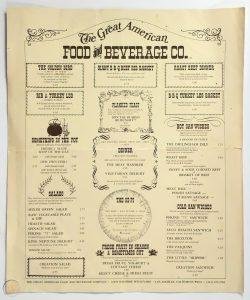 In the early '80s, I was hired to be a singing busboy at the Great American Food and Beverage Company, home of the singing waiter. I knew the job was going to be different from, say, your average coffee-shop gig, but I really didn't have a clue as to what I was getting into. I was told that if I came to work early on the first night, I could have dinner before they opened the restaurant. I ordered a burger. The chef came out with a group of waiters, all of them smiling as they handed me my plate. There, sandwiched in the bun, right where my burger was supposed to be, was a dead rat!
Okay.
This job was going to be different.
The Great American Food and Beverage Company (the G.A.) had been around since the '70s. Famous singing alumni include Rickie Lee Jones, Eric Lowen (Lowen & Navarro), Peter Tork (after the Monkees) and Vonda Shepard (long before Ally McBeal).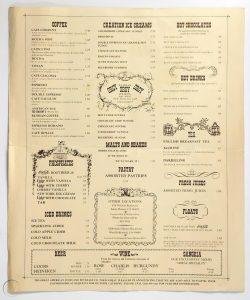 Having grown up in Los Angeles, I used to go to the Great American Food and Beverage to celebrate friends' birthdays. I knew people who worked there in high school, but I never imagined that I ever would. Having studied art in school (because John Lennon did), I came back to Los Angeles with a BFA and was trying to be a singer-songwriter a la Jackson Browne. After a few years, I needed a job and the G.A. became my home for two and a half years.
Waiters, busboys and hostesses all sang at the G.A. We didn't rehearse; the music was wonderfully spontaneous. Each person seemed to have his or her special songs, and after a while, we all knew the routine, but the lineup changed depending on who was working that night, and that kept us on our toes.
Picture the fast pace of a restaurant like Gladstones at the beach. There weren't any stages at the Great American, although one room did have a piano where we'd gather around to back up whoever was playing. As a waiter or a busboy, we'd be doing our jobs, and if we saw a split-second lull, any one of us could grab a guitar and either ask for accompaniment or go solo. The idea was to stand somewhere in the vicinity of the tables we were responsible for and entertain. You might start off alone and be surprised by other employees jumping in on the guitar, accordion, vocal, sax, trumpet, fiddle, or by rubbing two menus together — a wonderful form of percussion. Sometimes the song was a ballad, and other times a blowout where the lead singer stood up on a table and belted out a song, and everything in the room stopped… read more >