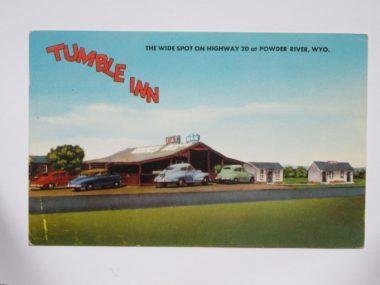 Most U.S. Highway 26 drivers who pass or stop by the recently renamed Kayla's know it by the name still plastered across the pudgy gut of a two-story-tall cowboy in the dusty gravel parking lot: the Tumble Inn.
On Nov. 4, Joe Trujillo pulled his black pickup up to south side of the Powder River curiosity and his former bar, thinking up to that point that he might gather some of his family's belongings from the private rooms in the back of Kayla's and go back to Casper, so long as nobody showed up at the bar – and his home – to try to take his kids.
Just 26 hours earlier, Trujillo, 50, and Kayla Byerly, 22, his fiancee and current owner of one of the only two bars left in Natrona County that featured exotic dancers, slammed the doors closed on the business forever. Crowds that once maxed out the 50-person fire code capacity had withered since the Natrona County Commission in February placed a ban restricting 18- to 20-year olds from being in a bar after 10 p.m.
A 3-2 commission vote in June granted Byerly a full liquor license, but not without highlighting the Natrona County Sheriff's Department's problems with the bar (the minors) along with the town's (the dancing).
Then, on the day that would be the Tumble Inn's last, two Natrona County sheriff's deputies and two representatives from the Wyoming Department of Family Services responded to an anonymous tip that Byerly was using methamphetamine while raising her 9-month-old daughter and Joe's 4-year-old son, and that did it… read more >