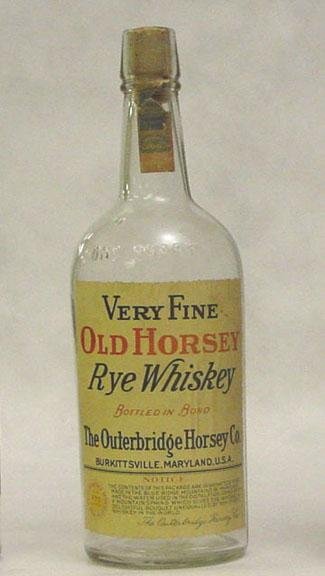 Inheriting land at Needwood in Maryland at an early age, Outerbridge Horsey – yes, that was his name – about 1839, determined not just to farm it, but to establish a distillery. His initial operations appear to have been small with mainly local whiskey sales, in keeping with the Maryland farmer-distiller traditions of that era. Shown here is a Horsey sign at a store in neighboring Boonesboro. With a daily capacity less of than 400 bushels of mash, production from Horsey's distillery put it almost squarely in the middle of Maryland's whiskey makers. Taxable revenues from the operation stayed steady at around $25,000 for many years. During his 60 years in distilling, Horsey steadfastly emphasized maintaining quality over increasing quantities of his whiskey.
Horsey's method of aging his whiskey was unusual for the times and brought fame to his operation. He sent barrels via ship around Cape Horn to San Francisco and then by railroad back to Maryland for bottling. His theory was that sloshing around inside barrels on the high seas mellowed and aged the whiskey in beneficial ways that sedentary storing in warehouses failed to do. He marked crates containing Horsey Rye with the message: "This whiskey was shipped by sea to San Francisco, thus acquiring a unique and most agreeable softness." During the Civil War, Needwood became a fierce battleground and the distillery was destroyed, but despite these setbacks, Horsey remained passionate about making whiskey.
He used his sojourn in Europe during the war to visit Scotland and other European distillery sites to learn as much as possible on how to produce high-quality liquor. Returning to Maryland after the war, he set about rebuilding his operation and eventually claimed it as "the first Eastern pure rye distillery of the U.S." Horsey marketed his whiskey in bottles with fancy labels with the Scottish spelling of 'whisky,' established dealers in nearby towns, and opened an office for his company in Baltimore. Establishments carrying Outerbridge's brand were given an attractive bar ornament — a metal horse about four inches high. Not long after Horsey's death in 1902, his aristocratic family apparently had no interest in making whiskey and sold the distillery. Under new management production doubled by 1907, leaving Horsey's quality before quantity mantra in the dust.
As one might expect, consumer's love of Old Hosey began to fall off in favor of other quality labels and with the advent of Prohibition, operations came to a screeching halt and were never resumed upon its repeal in 1934.