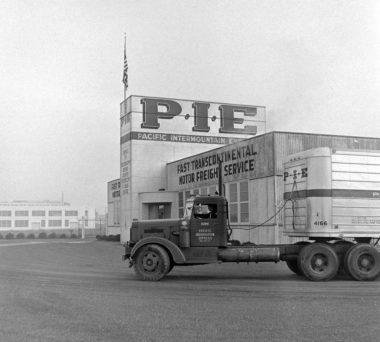 Pacific Intermountain Express (P.I.E) became the largest trucking company in the world in 1956.
The story starts in 1927 when Ray V. Lilenquest joined his brothers Bill and Les to run two Model A Fords providing service from Pocatello, ID, to Idaho Falls. Many changes occurred over the early years, with P.I.E. finally taking shape from three consolidated companies in 1940. By 1946 P.I.E. had 535 employees and was growing rapidly through many acquisitions in the late 1940s and 1950s.
With the purchase of West Coast Freight and System Tank Lines in 1954, P.I.E became the largest hauler of petroleum products in the world. Service extended from the west coast to St. Louis and Chicago. P.I.E. employed virtually every type of available road equipment, and also designed some of their own dromedary tractors.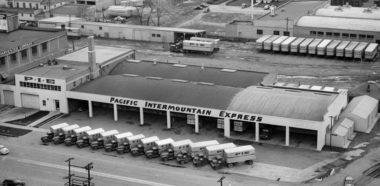 By the mid 1960s P.I.E. extended service to the east coast through more acquisitions, having 67 terminals in 29 states. In 1973 the company was purchased by IU International, and in 1983 merged with Ryder Truck Lines, forming Ryder/P.I.E Nationwide. In 1985 the company was sold again, with the name shortened to P.I.E. Nationwide. By 1989 loses were staggering, and the company was sold again, absorbing Transcon Lines.
Loses continued, and in 1990 P.I.E. filed Chapter XI bankruptcy. An attempt to scale back operations failed, with one of America's most famous common carriers closing their doors forever, but leaving many fond memories.