The famed Day of the Dead ceremonies around Mexico's Lake Patzcuaro were once again thronged with visitors on Monday, economic relief for a tourist-dependent region that suffered from last year's pandemic shutdown of the observance. In the lakeside city of Patzcuaro itself, tourists were treated to a parade, theater and music performances.
"Come and visit us, Patzcuaro welcomes you with open arms," said Julio Arreola, mayor of the city in the western state of Michoacan that is famed for its colonial-era plazas and architecture.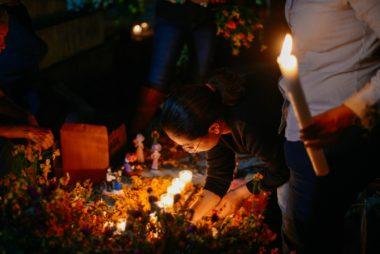 But in some smaller villages around the lakeshore, residents tried to preserve the authentic, non-tourist flavor of traditions passed down for hundreds of years.
While kids in Mexico City donned Halloween-style costumes based on the Netflix series "Squid Game," people in the village of Arocutín were more concerned with the flower arrangements and candles meant to guide the spirits of the dead home.
Residents of Arocutín started hanging up traditional garlands of marigold flowers early morning Sunday to adorn the entrance of the small local cemetery…. read more >