Back in the late 80s, Mazda tuner Racing Beat was approached by Mazda USA with a request to prepare a unique pickup truck to help bolster the sales of the B2000 truck line. After the boom of the mini-truck craze in the late 70s and early 80s, mini-truck sales started to slow as sales of full-size trucks, SUVs and minivans started to accelerate.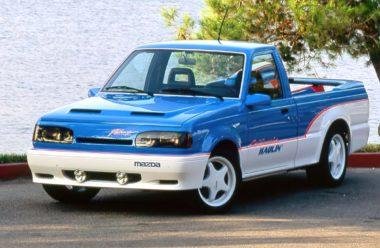 Racing Beat presented Mazda with a proposal for a "water craft" based vehicle that would demonstrate the convenience and versatility of this compact truck. The idea of a jet-ski was incorporated into the project as an ideal way to demonstrate this versatility and capture the "cool" California beach atmosphere.
The base vehicle is a 1989 Mazda B-Series truck that was originally equipped with a standard 4-cyclinder engine. Wanting to match the attitude and style of this revived "beach-ready" machine, the original engine was removed, and in went a 1987 RX-7 TURBO II engine mated to a fully automatic transmission. Horsepower jumped from a pathetic sub-100 HP, to over 200 HP after installation of the rotary engine and exhaust!
Next, out came the stock interior and in went customized Connelly-leather seats and door panels, a Panasonic stereo system, and body-matching color trim stitching. The bed of the truck included several VERY unique features. Since the truck was designed to show just how quickly a jet-ski could be unloaded from the bed, a unique "lock-down" system was developed to quickly secure the ski in place. Take a close look the rear wing on the truck, and you will notice that it is hinged about halfway back along the bed and when lowered, the wing fully incorporates into the side panels. Once the wing is lowered and securely locked into place, the rear of the jet ski is prevented from moving. Also incorporated into the bed of the truck are two guide rails that hold the ski from moving laterally.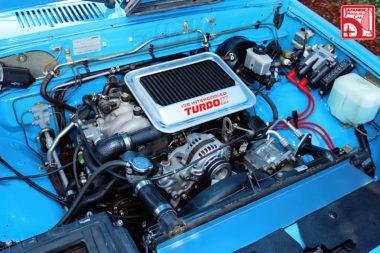 But clearly the most unique feature is located at the nose of the ski. Once the ski is placed in the bed and the wing lowered, a stainless-steel locking pin is actuated by applying the brake pedal. This locking pin extends through the tie-off hole in the nose of the ski, and prevents the ski from moving rearward once the truck applies the rotary power and gets underway. A cockpit mounted button allows the retaining pin to retract and the wing to lift so that the jet-ski can quickly be removed.
The fiberglass bodywork design was developed by automotive designer Ric Shields, and was custom fabricated in the Racing Beat facilities. The final paint and graphics scheme were applied with custom paint and graphics by Orange Body and Paint (remember, economical vinyl decals didn't emerge until the mid-90's).