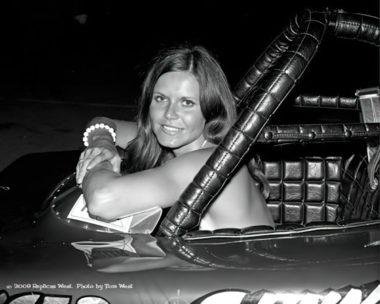 Barbara Roufs was a favorite trophy girl in the Southern California drag racing back in the '70s. As a 29-year-old mother of two at the time, she was a bit older than most trophy girls of the era, but her gorgeous figure, ample assets and playful personality made her a fan (and driver) favorite. The featured image above is one of her most iconic photographs, taken by Tom West, who was known for his racing images that captured the essence of the era.
However, that wasn't his daily job – the photographer was employed at General Mills where he worked in the marketing department. West ended up taking shots of Roufs after getting a gig with Revell/Monogram, a company known for creating plastic models of cars, trucks, and such. They
wanted pictures of the trophy models of the time, and we must admit, that they probably worked efficiently to promote their products. Meanwhile, Tom West also took many pictures of the vehicles while racing, both at the starting line and at the end.
Roufs was also a favorite of manufacturers and other businesses that wanted to sell to the hot rod, muscle car, and drag racing crowds, so it wasn't uncommon to see Barbara's stunning figure sporting a branded t-shirt with her winning smile next to a sponsor's product in more than one ad in the magazines like Drag News and Super Stock each month.
Sadly, in 1991, Barbara took her own life at the young age of 47, but she will forever be in our hearts as one of the most beautiful women in the drag racing scene. Enjoy this gallery of Barbara Roufs photos from various shoots during her days at the track and as a model. Rest easy, Barbara.