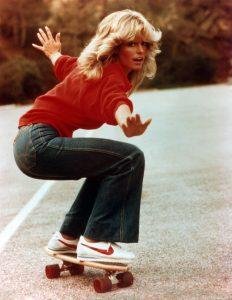 in the days before protective padding and fiberglass helmets were ever dreamt of, the first skateboarding craze took off. Grazed knees, concussion and splintered bones were just part of the experience as children and teenagers took to the streets on their flimsy wooden boards.
In Dana Point, California, Bill and Mark Richards invented the first skateboard in 1958 by attaching wheels from roller skates to a square wooden board. The Richards' sold the boards at their Val Surf Shop for $8.00 apiece. "sidewalk surfing" was regarded as an inferior substitute for wave riding, but the two cultures have always enjoyed many shared characteristics and icons.
The first commercial product, the Roller Derby Skateboard, went on sale in 1959, and an estimated 50 million boards were sold by 1965. These primitive skateboards were often around an inch thick, with narrow trucks and hard clay or rubber wheels, making for a rough ride.
The years following saw Jan & Dean release a single called Sidewalk Surfing, the first skate contests, and a picture of a skateboarder right there on the cover of Life Magazine. And back then, when you made the cover of Life, you were a part of pop culture Americana – instantly! Read more >