At fifteen, Al Goldstein was a shy teenager who sent away for a book on how to kiss girls. He practiced technique on his own hand. At age 32, Goldstein created SCREW magazine, "the world's greatest newspaper," the sex tabloid responsible in its eighteen-year history for millions of orgasms. A newspaper that men like to read with one hand.
Now 50, Goldstein is recently divorced from wife number three and, after an exhaustive romp through the personal ads and video dating services, perhaps headed for marriage number four. He has bedded prostitutes and porn stars, professional execs and Jewish princesses. His success as a pornographer inspires both rage and respect.
Author Gay Talese, in his book Thy Neighbor's Wife, describes Al Goldstein as "a man who did not aspire to influence society so much as to reflect the world as he knew it was being lived each and every day and night by thousands…" I decided to find out how this now famous "everyman" really feels about women—and maybe learn something about men in the process.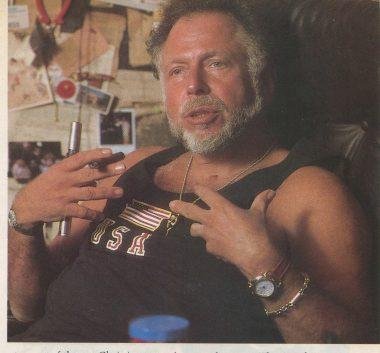 When I interviewed Al in his office, he was calm, gracious, mature, on his best behavior. It was different from our initial meeting six years ago when he invited me to lunch and expected me to eat him for dessert. At the time, he was on one of his never-ending diets. "I experience life through my mouth," he says later. "That is why I love to eat pussy." He took me to the local coffee shop, ordered broiled filet of sole, no butter, then took me back to the dark cheater's pad he kept near the office, and unceremoniously dropped his pants. I begrudgingly bestowed a few lackluster licks on his penis just because it seemed the thing to do. Then I came to my senses and hustled out of the apartment while he was still at half-mast. "I did that?" he says now, all surprised… read more >