If you look through past editions of Rare Rides, you'll note that the muscle cars we have covered were scarce owing to a fairly small array of reasons. Some were produced in low numbers because buyer demand was not there for what the car offered. Others, by virtue of the cost of the high-performance options that made the car special, simply exceeded the price point that muscle enthusiasts could afford at the time. Still more became victims of a regime change at the manufacturer that resulted in the model being canceled before a sizeable volume could be produced.
A modest amount of our subjects though, such as the 1966 Chevrolet Biscayne L72 427 and the 1966 Ford Fairlane XL500 427 R-Code, were never intended to be built in large numbers, as they were cars designed for a special purpose. That purpose was not to cruise the highways and byways of America like an average car, but instead to achieve glory at the drag strip by maxing out the car's design via a program of horsepower and weight loss. As such, these beasts appealed to a very limited group of buyers and consequently became the rarest of the rare.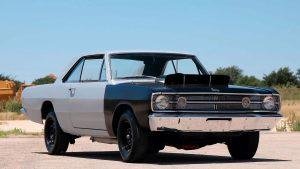 In this edition of the column, we're going to have a look at another one of these drag-strip warriors, indeed the fastest in a straight line built during the Golden Era of muscle. The car? The ultra-rare 1968 Dodge Hurst Hemi Dart LO23 Super Stock. So let's get to it!
The LO23's lineage stretches back eight years and three prior design generations. First introduced for the 1960 model year, the Dodge Dart was a low-price, downsized large car that was based on the Plymouth unibody platform, and rode on a 118-inch wheelbase. Offered in four-door sedan, four-door hardtop, four-door wagon, two-door sedan, hardtop, and convertible configurations, the Dart was available in increasingly expensive Seneca, Pioneer, and Phoenix lines. Engines ranged from a standard 225 cubic-inch slant-six, up to a range-topping 361 cubic-inch four-barrel V8. Read more >