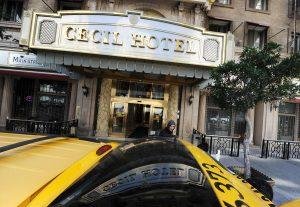 It's been nearly 100 years since Los Angeles' Cecil Hotel first opened its doors to the public, but the downtown hotel is marked by tragedy that has only escalated in recent years. Even Zak Bagans, the host of Ghost Adventures, told TRVL, "It doesn't get bigger or more sinister than this," prior to the premiere of his two-hour Ghost Adventures special on discovery+ earlier this year.
In 2013, the Cecil Hotel gained national attention after the mysterious disappearance of Elisa Lam, a Canadian college student, was spotted behaving erratically on elevator surveillance video before vanishing. Lam's naked body was later found in a closed water tank on the hotel's roof. The intrigue into the ominous building was the catalyst for podcasts, documentaries, and amateur investigations into the legacy of the troubled property.
Opened in 1924, hotel's original developers had planned for the massive Beaux Arts-style building to be a premier destination for business travelers visiting downtown L.A. But the economy succumbed to the Great Depression just five years later, and the expected influx of wealthy business travelers became a slow trickle.
Located just steps from Skid Row, the hotel became a viable housing option for the local transient population, which was estimated to already surpass 10,000 people in the 1930s.
The first recorded death took place a little more than two years after its opening, when a man died by suicide in his room. Tragically, more deaths by suicide followed… read more >