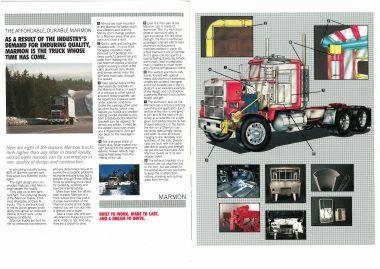 The Marmon Motor Company began in 1904. They were known in the early years for their top-of-the-line automobiles. They were the first to feature rearview mirrors, among other things. Some luxury models had V-8, V-12, and V-16 engines. And a Marmon took first place in the 1911 Indianapolis 500.
However, like many other auto companies, the Depression took its toll and Marmon discontinued production of their quality automobiles. But it did not all end there for Marmon; during World War II they built many specialized vehicles, such as half trucks.
The company was sold in 1963 and began to build road trucks. Only cabovers were built until 1970. Then, for many years, you could choose either a conventional cab or a cabover.
The final chapter of the Marmon Company was written on February 5, 1997, when the last Marmon rolled out of the factory in Garland, Texas. And "by the grace of God" Ken Matuszak was able to purchase that last Marmon. Ken, from McKinney, TX, needed a new truck because his old one was running him in the ground financially. He was set on a Marmon because of the 1975 model he had owned many years ago gave him such good service. He tried for six months and worked with five dealers to buy a Marmon, but he kept receiving the same story: Marmon was not taking any more orders… read more >