Ingrid Superstar is perhaps the most mysterious of the Warhol superstars. There is little known about her, including her real name, which is believed to be Ingrid von Scheven or Ingrid von Schefflin. Ingrid appeared in a handful of Warhol's films throughout the second half of the Sixties. Andy Warhol allegedly discovered Ingrid at a bus stop on 42nd street in New York City. It is rumored that he brought her into the group at The Factory to spite Edie Sedgwick, who had recently departed from the crowd.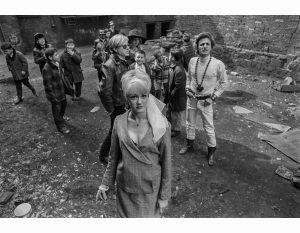 Ingrid's film debut came in Since, where she played Jackie Kennedy in Warhol's recreation of the Kennedy assassination. Most notably, she appeared in Warhol's Chelsea Girls, one of Warhol's films with a more commercial audience. Her last film credit is in a non-Warhol directed film called The Mind Blowers in 1969.
Ingrid disappeared on December 7, 1986 after going out for cigarettes. Callie Angell wrote in Andy Warhol Screen Tests, "Although the Kingston police announced 'there's a clear possibility of foul play, and we are intensifying our investigation,' she was never found." Ingrid's mother reportedly took out an ad in the newspaper reading, "Come back, so we can play 'Morning Dew' without feeling sad." Ingrid Superstar has been presumed dead since.