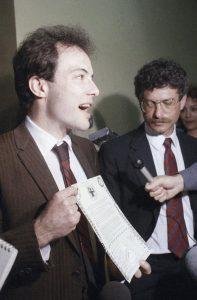 In 1985, Jello Biafra, the singer of the punk band the Dead Kennedys, came across a painting by the Swiss surrealist artist H. R. Giger in a copy of Omni Magazine. "I was absolutely floored," Biafra says in a new interview (audio) posted on the website of his record label, Alternative Tentacles. "Best stuff I'd seen since Bosch."
The encounter of the two iconoclastic artists led to one of the opening salvos in the 1980s culture wars—and an emotionally satisfying victory of artistic freedom over censorship, even if it turned out to be only a pyrrhic one.
When Giger died last week at 74, after a fall, he left behind a trail of images that linger in the mind much like the nightmares that troubled his sleep. His visual style, which mixed gothic decay with serpentine futurism, left a deep impression on anyone who experienced it in the 1979 sci-fi classic Alien (for which he won an Oscar for visual effects). But Giger also had a powerful effect on visual culture in an entirely different arena, far from multimillion-dollar Hollywood franchises.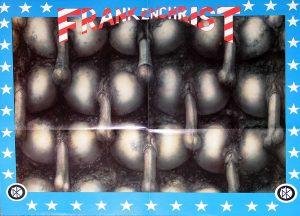 Biafra initially wanted to use "Landscape XX" as a gatefold cover for the album, with "Frankenchrist" written in candy-cane lettering. But making the record retail-friendly by wrapping it in colored plastic proved too expensive, and when the distributor and other band members objected to using the image openly, he decided to include it as a poster instead. The album had a sticker on the cover, warning that "some people may find [the poster] shocking, repulsive, or offensive. Life can sometimes be that way."
"Frankenchrist" was released in October of that year—a spectacularly bad time, as it turned out, to test the limits of free speech in America. The US Senate was in the midst of hearings on "potentially offensive content" in popular music. Months earlier, the Parents Music Resource Council, or PMRC, cofounded by Tipper Gore (then the wife of US senator and future vice president Al Gore), had succeeded in pressuring record companies to add warning labels to albums by artists such as Prince and Twisted Sister… read more >