An American, Tom Meade, completed his first custom-bodied car in 1962, basing it on a Ferrari 250 GT chassis. He called it the Thomassima, which in Italian means "the maximum from Thomas." This was then, the Thomasimma I, and it was unfortunately lost in a flood of Florence.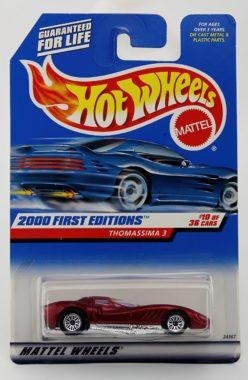 The Thomassima II was built in Italy in 1967, and was even more beautiful. It was commissioned to be built by a private owner in Northern California in 1966. The car was finished by Tom Meade in 1968 and shipped over from Italy. Soon after arriving it was displayed at the 1968 Pebble Beach Concours d'Elegance. The Thomasimma II was believed lost since 1971 as it was not seen in public until 2015, subsequently being sold (on Ebay!) for $9 Million!
In 1969 Tom built the Thomassima III, which created a sensation when exhibited at Italy's automobile manufacturers' show. The III was based on a Ferrari 250 GT Coupe. It was necessary to move the surrounding exhibits further back, to make room for the dense crowds surrounding Meade's creation. The resulting worldwide publicity included Tom Meade's life story being told on 60 Minutes and a talk show appearance with Walter Cronkite and Roger Mudd.
Mattel manufactures Thomassima III as one of its Hot Wheels collection. Source >