As the '70s sitcom Sanford and Son marks its fiftieth anniversary, it's worth recalling how this funny series broke serious ground.
He was a white guy writing scripts for one of the most venerated Black sitcom stars in tv history. So, during his time on the NBC hit Sanford and Son, Ted Bergman was occasionally corrected by star Redd Foxx and the mostly Black cast for asking them to do or say something that Black people probably wouldn't say or do.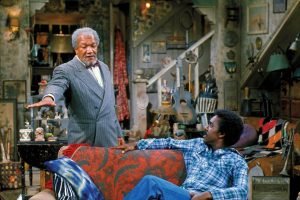 Once, Bergman wrote a scene in which Foxx's character, Fred G. Sanford, was playing Monopoly with his longtime friend Grady Wilson (Whitman Mayo). Fred's son Lamont (Demond Wilson) walks by and asks why they're playing a kid's game. Fred replies, essentially, that it's the only game in which a Black man can own railroads, power companies and utilities.
But Foxx nixed the exchange, Bergman says, and they eventually created an entirely new scene for the episode. Why?
"Redd said, 'Black people don't play Monopoly,'" Bergman recalls, laughing.
Reality wasn't often a stumbling block for Sanford and Son. It took a relatively simple setup — a widowed junk dealer and his son share a home and business on South Central Avenue in the L.A. neighborhood of Watts — and blew it up into storylines that had Fred sneaking into the dressing room of star Lena Horne and Lamont running for public office… read more >