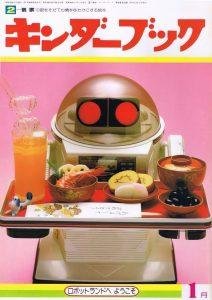 We loved anything to do with robots in the 80s, and there was a specific one that was designed to be used in your home. The Tomy Omibot 5402 was a toy robot that could be programmed and follow commands. It was released in 1984 as the flagship robot from a series of robots that would be released by Tomy.
The 80s were a real golden age of robots, and we got as much of them as our hearts desired. From Transformers, Gobots, Jonny-5, R2-D2, it was like we were living in a toy robot utopia. I wanted a Tomy Omnibot more than life itself. It seemed like this was more than a toy and would exist as a genuine robot companion.
From my perspective (and epic commercials) the Omnibot seemed like it could exist as almost as a pet and that it truly had its own artificial intelligence. These things were not cheap, however, so any dreams of having a robot best friend went down the drain faster than the batteries for them would run out.
This is a look back on the Tomy Omnibot 5402… read more >