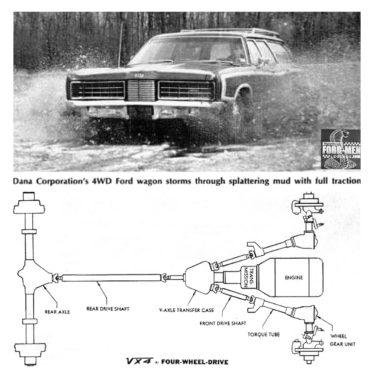 What is the V-Drive 4×4 Van? Developed by Dana in the 1970's, the V-Drive system was originally designed to add 4-wheel drive to vans and station wagons to keep the drive height low. This 1970 Ford LTD Country Squire 4×4 was developed by the Dana Corporation in hopes that Ford would put the V-Drive in production, but unfortunately that never happened.
Vehicle Engineering and Manufacturing Company (VEMCO) based out of Fort Wayne Indiana bought the rights and did 4×4 van conversions. These V-Drive systems found their way in to both Chevy and Ford Vans from 1976 to 1980. The company went out of business sometime during the 1980's.
Vehicle Engineering and Manufacturing Company (VEMCO) was born in Fort Wayne, Indiana, where the company began converting Ford and Chevy vans into 4×4 vans in the late '70s with V-Drive. The four-wheel drive vans had the plush suspension setup that was previously only afforded to passenger cars, and the 4×4 capability reserved for rugged off-roaders.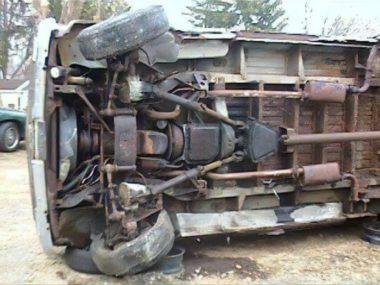 The V-Drive 4×4 van system was built using a Twin I-Beam front suspension as a model, adding the equivalent of a Dana 30 differential to each beam. Each pumpkin got its power from an output shaft, extending diagonally from a gearbox directly behind the van's transmission. Bevel gears within the gearbox split the power between the rear driveshaft and the two forward output shafts, allowing these 4×4 vans to pull with all four wheels.
V-Drive and VX4 4×4 vans and other vehicles would accomplish the goal of maintaining a low ride height. From the sketches, it looked as if there would be no outward difference between 2WD and 4WD vehicles—at least until you peeked underneath and noticed the extra differentials. There was also the benefit to auto manufacturers of being able to offer 2WD and 4WD versions of the same rig, since the V-Drive system could use the same frame, engine, steering, and suspension as its 2WD counterparts… read more >