Kids, I'm going to explain to you why your dad is so obsessed with Cobra Kai.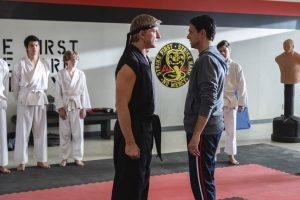 If you've got a Gen X'er in your life — someone old enough to have once owned, say, a Men at Work cassette — you've probably noticed a strange phenomenon in the past few weeks. They've been bowing before entering the TV room. They've been karate-chopping sofa cushions. They've been randomly singing REO Speedwagon songs.
This column isn't for them. It's for the younglings near them. So, if you happen to be one of the creaky-kneed relics described above, stop reading now and hand the newspaper — or whatever fancy-dancy digital device you use for news consumption nowadays — to the child sitting next to you.
The Karate Kid spinoff series Cobra Kai cashes in on 1980s nostalgia, as evidenced by the T-shirt actor William Zabka wears in Season 2 honoring New Orleans metal band Zebra… read more >